Website Maintenance
Do you look after your website as you would any other business asset? Whether it's words, webpage layout, extra photos or secure software, SUTTONNet can help keep your website performing at its best.
Webpages
You'll need to update text and photos:
to keep site visitors happy and interested, and help convert their interest to sales;
whenever your business, your product range or your target market change;
to show that your business is alive and well;
to maintain search engine rankings. New information helps keep your website prominent - preferably high on the first page of search results.
How often you update your website will depend on your industry, your target market and your competition.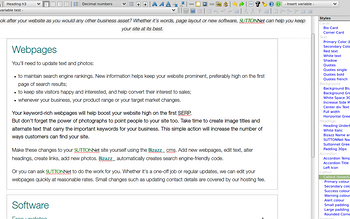 Make changes to your SUTTONNet website yourself, using the Bizazz content management system. Add new webpages, edit text, alter headings, create links, add new photos. Bizazz automatically builds search engine-friendly code and a mobile phone-friendly page layout.
Or you can ask SUTTONNet to do the work for you. Whether it's a one-off job or regular updates, we edit webpages quickly at reasonable rates. Small changes (such as updating contact details) may be covered by your hosting fee.
Software
Free upgrades
SUTTONNet maintains much of the software needed by the websites that we build, at no extra cost to our clients. This is all part of our managed webhosting service:
Update the version of

Bizazz

website management software which is installed on your site;
Continually upgrade to newer versions of the

PHP software

which underlies your website;
Upgrades to our server software.
Paid upgrades
We charge either a set fee or at hourly rates for the following:
New or altered facilities/code that you have requested: eg change ecommerce products layout, alter website colour scheme, add photo gallery or database;
Changes to your custom web application;
Software updates to Wordpress websites which we host. We charge a small annual fee for the frequent security fixes and other updates for these sites.
Older sites
Software ages. Old website software becomes more vulnerable to hackers. It doesn't combine well with newer technologies: browsers, hardware, new software that interacts with your site. Older web programs may also fail to meet security requirements.
Graphic designs age too. At SUTTONNet we believe that a website's appearance is servant, not king. We won't advise you to update a design just for this year's fashion stakes. But if your website looks like it was put together in the Internet Dark Ages, does it give your wouldbe customers confidence?
Is your old website easy to use? Some designs simply don't function well in this 'smartphones to wide screens' era.
There comes a time for every website when it's no longer worth tweaking. You need to invest in a new site on modern foundations.
It might not be as big a task as you fear. You know more about the needs of your business online. You probably have resources on the old site (eg keyword-rich text) that you can re-use or adapt.
This is a great opportunity to review your online goals. Start planning your new website with help from SUTTONNet.